So, what is Kodu?
Its a wonderful 3D game creation software created by Microsoft to get students interested in programming. Kodu lets kids create games on the PC and Xbox via a simple visual programming language. Kodu can be used to teach creativity, problem solving, storytelling, as well as programming. Anyone can use Kodu to make a game, young children as well as adults with no design or programming skills.
Features
Kodu is a rich tool for narrative creation and storytelling
Kodu demonstrates that programming is a creative medium
Kodu helps children with critical thinking, breaking a complex goal into manageable steps, and iterate on the design process
Kodu introduces the logic and problem solving of programming
Kodu introduces conditions and sequences, which teaches cause and effect
Kodu can be taught by any teacher, no previous programming expertise required
Students learn about cooperation, logic and creativity in addition to programming
So, what is Kodu Touch?
Robot U uses Version 1.4.27.0 of Kodu, affectionately named "Kodu Touch" in our classes because we use touch Windows 8.1 tablets.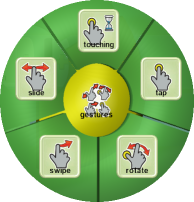 New Features
Touch Implementation:  With a touch tablet, we create, sculpt, code, and play with touch-only interface!
Mr. Octo & Friends:  two new characters (Octopus and Generator), with new features such as "camouflage", "push/pull" fan experience, and "ink-jet".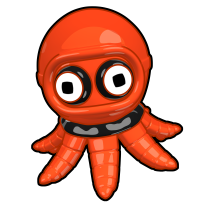 Sea-themed objects:  Create your underwater experience with starfish, kelp, treasure clams, and lili-pads.  We also have Icebergs to create artic environments as well.
Pipes:  Create, rotate, connect, and build pipes into your experience
Level Linking:  Now, link up to three levels together to continue that great game experience. As a part of this, you can persist scores.
Dynamic Settings:  Have Kodu grow and shrink;  turn day into night, and back into day!  Change the lighting, water levels, and water colors through game design.  You control much more of the game settings.
Coral Defense:  3 professionally created "tower-defense" style games, linked together!  Help Kodu defend the starfish by reprogramming Mr. Octo's minions.  Created by Smoking Gun Interactive, check out how to create your own tower defense levels.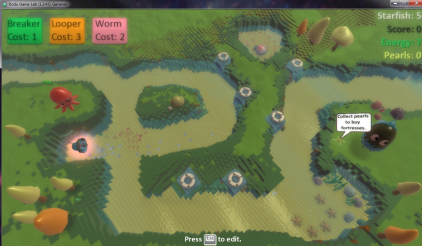 Pretty Cool, huh?
Now something about Robot U's classes in particular. The classes are structured where each student gets the use of one touch pc tablet each or they share and develop a game together. These are two different classes. Both fun, but with slightly different goals. One lets the students have complete mastery over their creations while the other values teamwork and collaboration. Our classes follow Microsoft's lesson plan and as an added perk a projector is brought in to demonstrate lessons and showcase the students creations.
I installed Kodu on the tablets that we use for robotics and I keep finding the students playing with the program before class begins, some of the students I find running to class just so they can play with the Kodu software before we get going.

Owner/Instructor Don Gronning.